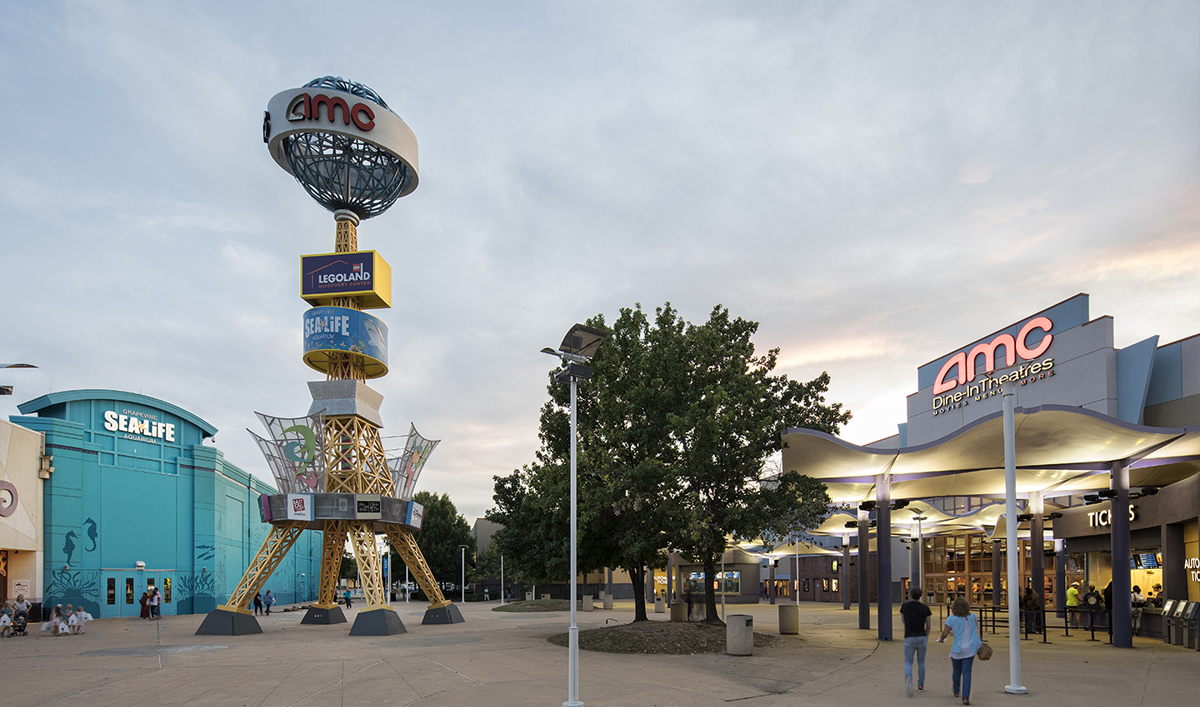 Grapevine Mills®
3000 Grapevine Mills Pkwy, Grapevine, TX 76051-2021 P: (972) 724-4900 F: (972) 724-4920
PROPERTY OVERVIEW
THINK INSIDE
THIS BOX.
Great Space Available!

Complete this form to have us contact you about leasing opportunities.
CONTACT US
There is over 1.6 million sq. ft. of shopping, entertainment and restaurants, at Grapevine Mills.   We have over 180 stores to choose from, such as Neiman Marcus Last Call, Saks Fifth Avenue OFF 5th, LEGOLAND Discovery Center, Rainforest Cafe, H&M, NIKE FactoryStore, Ann Taylor Factory Store, GAP Factory Store, and more.  No matter what your budget or style is, Grapevine Mills has something here for everyone.


Key Tenants:
Burlington, The Children's Place, Group USA, Marshalls, Nike Factory Store, Saks Fifth Avenue Off 5th, AMC Theatres, Sun & Ski Sports, Neiman Marcus Last Call, Bass Pro Shops Outdoor World, Off Broadway Shoes, VF Outlet, Legoland Discovery Center, Sea Life Center, Ross, H&M, Round 1 Bowling and Amusement, Fieldhouse USA, The Escape Game
Leasing Information:
Current Property Tax Bills
5211_2012_R.pdf

5211_2013_R.pdf

5211_2014_R.pdf

5211_2016_R.pdf

5211_2017-1.pdf

5211_2017-2.pdf

5211_2017_City.pdf

5211_2017_L.pdf

5211_2017_L2.pdf

5211_2017_SW.pdf

5211_2017_Tarrant.pdf
Past Property Tax Bills
5211_2007.PDF

5211_2007_L.pdf

5211_2008.pdf

5211_2008_L.pdf

5211_2008_L2.pdf

5211_2009.pdf

5211_2009_L.pdf

5211_2010.pdf

5211_2010_L.pdf

5211_2010_L3.pdf

5211_2011.pdf

5211_2011_L.pdf

5211_2011_L1.pdf

5211_2011_L2.pdf

5211_2011_L3.pdf

5211_2012.pdf

5211_2012_L.pdf

5211_2012_L2.pdf

5211_2013.pdf

5211_2013_L.pdf

5211_2013_L1.pdf

5211_2014 no pp.pdf

5211_2014_L.pdf

5211_2014_PP.pdf

5211_2014_SW1.pdf

5211_2014_SW2.pdf

5211_2014_SW3.pdf

5211_2015.pdf

5211_2015_L.pdf

5211_2015_L2.pdf

5211_2015_SW.pdf

5211_2015_SW2.pdf

5211_2016.pdf

5211_2016_L.pdf

5211_2016_L2.pdf

5211_2016_SW.pdf

5212_2008_L.pdf

5215_2008_L.pdf

5279_2012.pdf

5279_2016_L.pdf
Current Tenants:
Tenant Allowance Payment Guide

Mall Manager

Joseph Szymaszek

Mall Manager
+1 (972) 724-4910




KEY FACTS
LOCATION
Hwy 121 & Hwy 26 & Hwy 2499
Closest Major Intersection
PROPERTY FACTS
Mills Property
Property Type
1,781,387 ft2
Gross Leasable Area
59.30% Simon Owned
% Legal Ownership
2007
Year Built or Acquired
DEMOGRAPHICS
2,792,003
Trade Area Population
2,767,360
Total Daytime Population
990,925
Trade Area Households
$84,878 Annually
Average Household Income
Specialty Leasing
Simon offers many different leasing options. Here you'll find information about this property and who to contact to assist with your specific needs.
Specialty Leasing Lease Inquiry Form

Short-term Enterpreneurial Package (STEP)
Specialty Leasing Manager

Krista Gaddy



FIND OUT MORE
LONG-TERM
LEASING
Simon offers many different leasing options. Here you'll find information about this property and who to contact to assist with your specific needs.
Permanent Leasing Contact

Matt O'Connor




Big Box Leasing

Scott Hopper



FIND OUT MORE
CONTACT US
Property Management:
The Property Management Team has the primary responsibility for maintaining Simon's industry leading position, by providing our customers a quality shopping experience. This includes focus on such diverse elements as: quality of service, safety, convenience, visual appeal, cleanliness and comfort. Property Management fulfills all day-to-day operational responsibilities at the properties, as well as managing operational and upgrade capital investments to insure a consistent and reliable retail product with desirable customer touchpoints.
Contact Information
Mall Manager

Joseph Szymaszek

Mall Manager
+1 (972) 724-4910